Lead Generation Service for Real Estate
Lead Generation Solutions Made Easy
Are you a builder, real estate developer, a real estate agency or a property agent? Like all businesses, Real Estate also needs fresh infusion of leads for growth. At Clicks and Sales Pvt Ltd, we provide unparalleled and customised solutions for the real estate industry. We have a separate team which works on lead generation for the real estate industry and we deliver leads to our clients through our unmatched CIFA panel.
From offering guaranteed site visits to office meetings to providing extended follow-up support with the aim of keeping sales funnel full with quality leads, our solutions for those in property business ensure that you not just get leads, but derive results as well.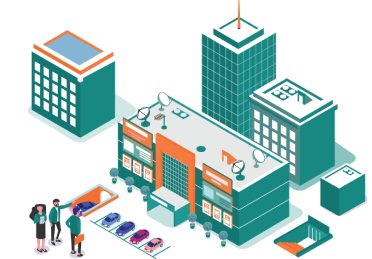 Lead Generation for Residential, Commercial, Farm Houses, 2nd Homes, Under Construction Properties
C&S's Qualification Rate for a Lead of Real Estate 87%
Site Visits/Office Meetings Reported of these leads 34%
Reported Conversion within 90 days of the lead 11%

Residential (30 Lacs to 1 Cr)
Our team has immense experience in lead generation for residential projects of the range Rs 30 Lacs to Rs 1 Cr for all metro cities. We have worked with leading property developers, real estate agencies on lead generation projects.

Commercial (50 Lacs to 1 Cr)
For new commercial projects, our team relies more on investors looking to acquire property for short term gains. As such, our marketing and sales efforts are directed towards showcasing how an investor will financially benefit.

Luxury (1 Cr to 7 Cr)
Luxury real estate projects need to be dealt with care. The target profile of clients in this segment requires personal attention and leads cannot be generated through calling. Our team innovates strategy for each project for luxury projects.

Farm Houses, 2nd Home
Lead generation for this segment is done largely through acquisition of databases from reliable web portals. Our team generates these leads through a mix of advertising and telephone discussions.
Clicks and Sales for Real Estate Lead Generation
Get to know how easy and effective the process of lead generation can be for your real estate business. The tactics we use are one of a kind and we work with our clients and push for conversions to the extent possible. While we track a lead for 90 days, in real estate, many times, conversion occurs after this period.
Our team will ensure that you get fresh and manually validated leads which is reflected in the high qualification rate of 87% which we have maintained. Our lead generation service for the real estate industry comes with a replacement guarantee for leads which do not confirm their requirement or do not connect.
Make Your Lead Generation Service Simple And Effective Today With Our Help
If you are a digital marketer, digital marketing agency, SEO agency which is looking to grow your business by acquiring more clients in your portfolio, you should opt for our lead generation service for seo and digital marketing services.